When most people think about foot deformities they most often think about bunions; however, hammertoes are just as common. This unassuming deformity comes about gradually, so you may not even notice it until it's too late. "What is a hammertoe?" You might be wondering. A hammertoe affects the middle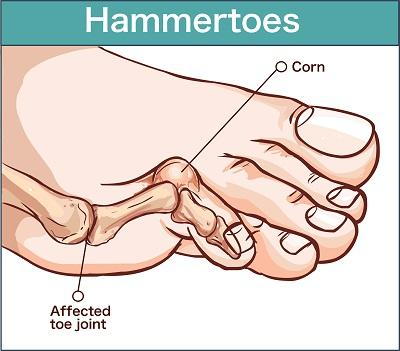 joint of a toe (often the smaller toes), causing the toe to bend downward. In severe cases, a hammertoe will look almost claw-like.
There are two kinds of hammertoes: flexible and rigid. As you might imagine, a flexible hammertoe is one in which you can still straighten the toe out. If you aren't able to straighten the affected toe then this is a rigid hammertoe. A flexible hammertoe isn't as serious as a rigid one; however, it's important that you take care of your hammertoe to make sure that it doesn't get worse.
While there is no way to cure a hammertoe there are simple measures you can take to prevent it from progressing. First and foremost, you need to take a look at the shoes you are wearing and make sure that they aren't too tight. When you slip your feet into your shoes, does it cause your toes to bunch up against one another? If so then this could make your hammertoe worse.
Instead, opt for shoes with an ample toe box, which will allow your toes to wiggle and move around freely. If you have a structural imbalance within the foot this can leave you prone to foot problems such as hammertoes and bunions. To correct this imbalance, talk to your foot doctor about getting custom orthotics (shoe inserts), which can be placed into your shoes to help provide cushioning, support, and shock absorption for your feet.
If pain or stiffness does rear its ugly head you can choose to take an over-the-counter pain reliever like ibuprofen, which can tackle both pain and inflammation in one fell swoop, or you can place a towel-wrapped ice pack (never put ice directly on the skin, as it can cause severe burns) over the area for several minutes.
Just as you can buy pads to cover a bunion or callus, you can also buy a non-medicated protective pad to cover over a hammertoe. Since the deformed toe joint juts out this can leave the toe prone to calluses, which can cause pain when wearing shoes. To prevent a callus from forming, you can apply a protective pad over the deformed toe joint before putting on shoes.
Of course, if you are dealing with significant or frequent pain, or if the hammertoe is rigid, then you will want to turn to a podiatric specialist. In severe cases, surgery may be recommended to correct the disfigured joint.